On day one of the 2016 amateur draft, the A's chose to load up on collegiate arms, taking a trio of talented college hurlers with their first three picks of the draft. All three pitchers were members of 2015's USA Collegiate National Team and at one point or another all were considered potential 1st-round draft picks.
With their first pick, the A's selected a University of Florida junior for the second year in a row. Last year, it was Gators shortstop Richie Martin, and this year it was LHP A.J. Puk. Baseball America had recently ranked the big lefty as the top overall pick in the draft, and A's scouting director Eric Kubota and the rest of the A's staff were clearly excited that Puk was still available when it came time for the team to make the 6th overall pick in the draft.
Puk is a 6-foot-7, 230-pound, 21-year-old power pitcher whose fastball has been clocked as high as 99 mph. He pairs it with a solid slider, but his changeup is still considered to be something of a work in progress. His command has also been spotty at times, and the Iowa native walked a total of 84 batters in 188 innings during his 3-year collegiate career. This season, Puk walked 31 and struck out 95 while posting a 3.21 ERA over 70 innings of work for Florida. With an outstanding fastball, a solid slider, an impressive frame and loads of raw talent, it's easy to see why most people see Puk as a pitcher with tremendous upside.
The only blemish that gets mentioned on Puk's record is an arrest for criminal trespassing last year, when he and a teammate decided to climb on top of a crane located on a construction site on campus late one night. And if that's the worst that you can say about someone, that ain't so bad! A's front office officials confirmed to A's Farm the general impression about Puk that he definitely has top-notch stuff but his command has been a bit of an issue. The last time the A's took a pitcher with their top pick in the draft was 2011 when the team took RHP Sonny Gray. And like Gray, Puk is considered to have the talent to be a potential top-of-the-rotation starter.
With their second selection, the 37th overall pick, in the Competitive Balance Lottery Round A, the A's took a talented hurler who was originally considered by some to be a potential top 20 pick in the draft, RHP Daulton Jefferies, a junior from UC Berkeley (Cal). And once again, Kubota and company were pleasantly surprised to find such a top arm still available when it came time for the team to make their next pick.
Jefferies is a 6-foot, 185-pound, 20-year-old right-hander whose fastball has been clocked as high as 95 mph. He also features a slider and an occasional changeup and possesses excellent command. Despite being sidelined for 8 weeks this season with shoulder and calf injuries, Jefferies went 7-0 and posted a stellar 1.08 ERA while striking out 53 and walking just 8 over 50 innings of work this year for Cal.
Jefferies' season got off to a great start but, when he missed nearly two months due to the aforementioned injuries, his draft stock tumbled in a bit as teams always start to become a little more timid whenever any sort of health issues arise. But that was good news for the A's, who were able to snag another top-tier talent. An A's source confirmed that the team did its due diligence on him medically and that they felt he was "all good." And the northern California native did return from his injuries to make a couple of solid starts for Cal in May.
And finally, with their third selection, the 47th overall pick, in the 2nd-round, the A's plucked another junior from the University of Florida pitching staff, Puk's teammate, RHP Logan Shore. The Minnesota native is a 6-foot-2, 215-pound, 21-year-old right-hander who went 11-0 with a 2.44 ERA while striking out 80 and walking just 15 over 92 1/3 innings of work for Florida this season.
Shore, who was named the Southeastern Conference Pitcher of the Year last month, was actually the top performer on Florida's pitching staff, while Puk was considered to have more upside. Shore doesn't throw nearly as hard as the A's top two picks but is a consistent strike-thrower with good control who also possesses an advanced changeup. His fastball typically sits around 90 mph and he also works with a slider. And what he may lack in velocity, he more than makes up for with solid command and an advanced understanding of pitching that many expect will help him rise quickly through the system.
1st Round
A.J. Puk
Left-Handed Pitcher
University of Florida
Age: 21
Height: 6-7 / Weight: 230 lbs.
2016 College Stats: 70 IP / 50 H / 25 ER / 31 BB / 95 K / 3.21 ERA / 1.16 WHIP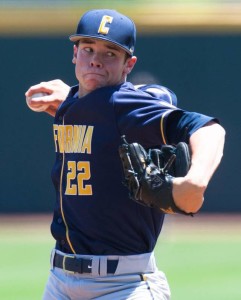 1st Round Supplemental
Daulton Jefferies
Right-Handed Pitcher
UC Berkeley (Cal)
Age: 20
Height: 6-0 / Weight: 185 lbs.
2016 College Stats: 50 IP / 34 H / 6 ER / 8 BB / 53 K / 1.08 ERA / 0.84 WHIP
2nd Round
Logan Shore
Right-Handed Pitcher
University of Florida
Age: 21
Height: 6-2 / Weight: 215 lbs.
2016 College Stats: 92 1/3 IP / 75 H / 25 ER / 15 BB / 80 K / 2.44 ERA / 0.97 WHIP
Be sure to like A's Farm's page on Facebook and follow us on Twitter @AthleticsFarm. You can also get our exclusive A's minor league newsletter e-mailed to you free by signing up here.