The A's didn't have to look far to find their second pick in this year's amateur draft. With the 37th overall selection, the team took Daulton Jefferies, a 20-year-old right-hander who's spent the past three years pitching right in their own backyard at UC Berkeley for the California Golden Bears.
While Jefferies' fastball reportedly has been clocked as high as 95 mph, he also works with a changeup and a slider and possesses excellent command. He went 7-0 and posted a stellar 1.08 ERA while striking out 53 and walking just 8 over 50 innings of work in his junior year at Cal this season. But he missed about 8 weeks of the season due to calf and shoulder injuries. He was once considered a potential top 20 pick in the draft, but those injury issues may have caused him to tumble into the lap of the A's, who were more than happy to have the opportunity to nab another top-tier talent.
Jefferies, who went to high school in Atwater, just a few miles north of Merced, says that he's modeled himself a bit after A's right-hander Sonny Gray. So the northern California native was clearly happy to find himself selected by the local team. An added plus to being taken by the A's is the fact that he's also friends with the other two young pitchers the team took on the first day of the draft, Florida's A.J. Puk and Logan Shore. The trio had the chance to play together last summer on the USA Collegiate National Team and have been fast friends ever since.
We took the opportunity to talk with Jefferies on the morning after the draft and found him eager and excited to be part of a pack of promising young pitching prospects who will hopefully help guide the green and gold back to glory before long…
AF:  Well, congratulations on being selected by the A's on the first day of the draft. So how did it feel waking up today knowing you were one of the top 40 picks in the major league draft?
DJ:  To be honest with you, it hasn't really hit me yet! As soon as I got drafted, I ran to get an A's hat…and when I woke up, it was the first thing I put on. But it hasn't hit me yet – it's pretty surreal.
AF:  So are you going to go to sleep with it on tonight too?
DJ:  I wouldn't doubt it to be honest with you.
AF:  I know you're from around the Merced area. So did you grow up as an A's fan or a Giants fan or both?
DJ:  My family is a mix between Dodgers, Giants and A's. I have a big family so it's spread out a bit. But going to Berkeley certainly helps – going to see Sonny Gray pitch, going to see Marcus Semien, Mark Canha and Bob Melvin, who are Cal graduates. I grew up going to Giants games and A's games.
AF:  It sounds like you grew up being pretty well acquainted with the A's anyway. So have you seen or read Moneyball yet?
DJ:  Yes, I watched Moneyball. It was actually a really good movie. I didn't get a chance to meet Billy Beane. But I'm sure I will, so I'm pretty excited.
AF:  Oh, I'm sure you will very soon! So did you have a favorite A's player growing up?
DJ:  Not really. I remember watching Scott Hatteberg and that whole story. And then, Sonny Gray…I kind of try to model my game after him. He's had a lot of success there. He plays the game the right way and plays it for the right reasons.
AF:  So are you looking forward to wearing those white cleats?
DJ:  Yeah, my uncles were teasing me about that, and the stirrups and everything. I'm pretty excited. As long as I'm a professional baseball player, I could wear a clown outfit and I wouldn't care!
AF:  Can you tell me a little bit about your repertoire and how confident you are in each of your pitches and where they're at at this point?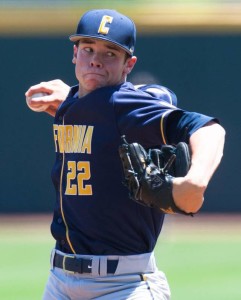 DJ:  My fastball's 90-94 mph and touches 95-96 mph. I can control both sides of the plate. Both 4-seam and 2-seam – the 2-seam more going in to righties and away to lefties. And then I build off my fastball and I build off my changeup. My favorite pitch to throw is my changeup. It probably goes from 84 to 88 or 89 mph. I like to throw it a lot to lefties and get hitters off balance, and then going to righties away and getting them to kind of reach and roll over and build off of that with a fastball inside and jam them. And then I just developed a slider this year, and it became one of those big out pitches for me. It usually goes from about 82 to 86 or 87 mph. I learned about myself a lot building off my off-speed. I don't have a huge, over-powering fastball, like 96-98 mph range. So I just developed into what I think I am. I hit my spots and I can control both sides of the plate. And I don't really care about strikeouts, as long as I get guys out and miss barrels. I don't try to strike anyone out. But as long as I execute my pitches, everything will work out. But professional ball is a whole different animal, and I'm ready for it.
AF:  I was going to ask you about what you kind of touched on there. What's your mentality like when you take the mound? Is there anything in particular you're trying to remember to do or thinking about trying to accomplish whenever you take the mound for a start?
DJ:  First pitch strike and getting ahead of guys, and getting the leadoff guy out – that's a big momentum shift. As a pitcher, you're trying to get your offense back in the dugout so they can score some runs for you. So anything I can do to help speed up that process and get them back grabbing their bats is good.
AF:  You've had a good career at Cal over the three years you've been there, but you really had a great year this season. You went 7-0 with an ERA of 1.08, and it's hard to do much better than that. So what was really working for you this season and was there anything different you were doing this year?
DJ:  You know, I think the summer helped me a lot with confidence. Being on the USA Collegiate National Team and playing against other national teams – it was kind of weird playing against 35-year-old Cubans – but it was a great experience, and it kind of opened my eyes to finding out what kind of pitcher I really am. The big thing for me was getting ahead and kind of attacking the hitter. I'm going to make the hitter earn his way on base, I'm not going to walk the guy – I hate walks with a passion!
AF:  You got off to a great start at Cal this year, and then you had a couple of injuries involving your calf and your shoulder and ended up missing about 8 weeks of the season. So can you tell me a little bit more about what happened there?
DJ:  The calf started first after facing Oregon State. And then my arm started to kind of stiffen up. I thought it was just normal soreness from throwing a complete game against Oregon State, but it didn't really go away. And I just decided to shut it down. So I got the rest I needed. And I was extremely fortunate to be able to get back out there and play with my guys the last two games.
AF:  Did the A's want to talk to you about the shoulder injury and look into the situation a little further before the draft?
DJ:  Yeah, I went to the workout [for draft prospects at the Coliseum] last week. And I got to see their doctor. He took me through some tasks, strengthening stuff and mobility with my shoulder. And guys in the big leagues get over this injury and I did too. And I'm just glad they had faith in me and I can't wait to get out there. Jermaine Clark was my scout, and he had some nice things to say to me when I went there.
AF:  I guess you actually played together on the USA Collegiate National Team last summer with the A's other top two picks from the first day of the draft, Florida pitchers A.J. Puk and Logan Shore.
DJ:  Yeah, we did. We've gotten to be pretty good friends. I text Logan and A.J. all the time. They're a great group of guys. And just being around those guys with those repertoires and getting to see A.J. Puk pitch – when it looks like it's 86 mph but, when you look up, it's 97 mph, just because he makes it look so easy. But I couldn't be more happy. I facetimed them this morning and we all had our A's hats on, so it's a pretty exciting time for us!
AF:  Well, I guess it must be nice to be starting your pro career with a couple of guys you already know and like and have played with before.
DJ:  Absolutely, it's awesome!
AF:  So being a northern California guy yourself, is there anything else you'd like A's fans to know as you embark on your career in the green and gold?
DJ:  I'm just so thankful for the opportunity. And I can't wait to get out there and start the uprising of the Oakland A's! And not just me, but Logan Shore and A.J. Puk and everyone else, we're going to get this thing going and we're extremely excited!
*          *          *
Be sure to like A's Farm's page on Facebook and follow us on Twitter @AthleticsFarm. You can also get our exclusive A's minor league newsletter e-mailed to you free by signing up here.